---
A Little Biography

I work during the day designing VLSI silicon based microprocessor circuits (transistor stuff). At night and on weekends, I moonlight as a Leo Fender designer "wannabe". I've been playing guitar since '64 and tinkering with amps for a long time, especially Fenders. I've been running a repair and restoration shop out of the house (actually garage) since 1995.

I graduated from Portland State University, Oregon, in 1984 with a B.S.E.E. I went back to school in my mid 20's after starving as a musician with the hopes of getting into the music business with my electronics background and formal education, as in a studio engineer or audio design engineering. While in college I became completely intrigued by analog and digital integrated circuit (IC) design. I have now reached a compromise, IC design by day, tube amp design by night and occasional gigging. Now if I could only find time to sleep.

I know Fenders inside and out. If you ever need any help achieving some special "tone to the bone", please drop me an e-mail. I really enjoy helping player's find that "for ever searching for" tone. The problem with most repair shops is that they don't have the time to always work with the player or listen to the work they performed on the amp. They need to turn out the business in order to pay the bills. I do it for the kicks, giggles and a modest fee. Watching Robbie Laws, a local blues player, face light up when he played his Super Reverb after I spruced it up was rewarding in itself. Listening to Kenny "Blue" Ray play through my Vibroclone during a '97 Valentine's Day gig was a real kick.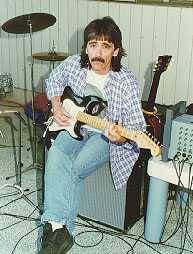 Me sitting on my '68 Twin Reverb workhorse serenading the party with "Lenny" during a band break at a 4th of July party at professional World Champion wrestler's house, Rowdy Roddy Piper.
Every amp tech/builder needs a source for checking out his/hers work in a live situation. My live testing is performed with the band, The Implements. I met one of the Implements, Dennis Dittrich, on our kids' soccer field about 4 years ago. Dennis and the Implements have been playing together off and on in the local Beaverton, Oregon area since the early '70s. The band now has six members and plays a diverse set of Rock & Roll with a slight blues twist, (that's my contribution).

The Implements Home Page
---