---
Shipping And Payment
I accept PayPal and money orders for part sales and restoration services. For shipping, as you have probably read elsewhere, I really only need the chassis. I have about all speaker combinations on hand that I use to test the completed chassis work. Most times, I have the same Fender combo as your chassis uses. I then use your chassis to drive my cabinet/combo. So unless you need cabinet work or speaker replacement, just ship the chassis. This will save shipping expense too.
For shipping parts, I usually use US Priority mail with Internet confirmation. That runs $6.50 for two pounds or less and includes shipping material. For amps and amp chassis, I've had good success with UPS thus far. A chassis will cost about $30 to $45 to ship. A complete Super Reverb amp can cost up to $80. Boxes can be obtained through local music stores. Just call one. You'll find that music shops that sell amps will keep a few boxes around for spares but most of the time they will be glad to unload a box or two because then they don't have to deal with disposing of the box. For shipping a chassis, about any box can be used if the chassis is wrapped separately. The post office and most mail box offices sell a box large enough to ship a chassis for about $3.50. Total packing cost of new material to ship a chassis should be about $10. Note too that the US Post Office sells money orders for $0.75.
Here's are few shipping related links. Both UPS and Priority mail have links in their webpages that allow you to track the package. Nice service!
---
Steps To Remove a Fender Chassis
Unplug amp. If it was recently used, unplug amp, flip standby switch back to play mode and let sit for 5 minutes.

Remove top back panel by removing the four Philip-head screws.

Remove speaker jack.

Remove tubes shields by pushing up and twisting. Remove preamp tubes, power tubes and rectifier tube (if there is one). Tubes are removed by slightly rocking the tube in a circular motion while pulling gently away from the tube socket. If you want me to test your existing tubes, wrap each tube in a tissue and stuff into a separate small box with appropriate packing material.

Remove power cord strain release screw from cabinet.

Remove reverb in/out RCA jacks.

The chassis is held by four long chassis bolts, two on each top side of the amp mounted through the chrome chassis straps. All most every chassis I've removed can be accomplished by using your left hand to grab the chassis nut up under the chassis and use a proper fitting Philips screw driver to loosen the chassis bolts. Loosen all four a little before removing any one bolt so not to stress the chassis. The back inside of the cabinet has cabinet rails where the top and bottom back panels screw into. The chassis will rest on the top of these rails as the screws are loosen. Later '70s chassis need to be pulled back a little to ensure the chassis sits on these rails while you remove all chassis bolts. Once the chassis bolts are removed and the chassis is resting on the back cabinet rails and baffle board, use your left hand to firmly grab the power transformer and your right hand on the output transformer and pull the chassis slowly out. The power transformer is the left most mounted transformer. Make sure and take notice of the faceplate while removing the chassis. Sometimes the faceplate needs a little forward pressure from the front of the amp to release it from snagging the inside stapled tolex. Be careful or you will bend one of the faceplate corners.

Wrap a piece of cardboard around the chassis to keep the component side protected.

Place wrapped chassis in plastic garbage bag.

Place chassis in box with as much packing material as necessary to keep chassis from moving around. Materials for packing can be; bubble wrap, popcorn and newspaper or a combination of any material. The below pics show a chassis I shipped back to the owner. I could tell from the material used in this case, that the owner purchase the box and packing material from the local post office. Box and packing material probably cost James no more then five bucks.

---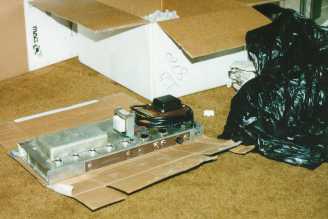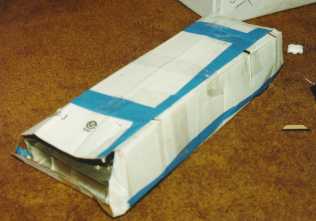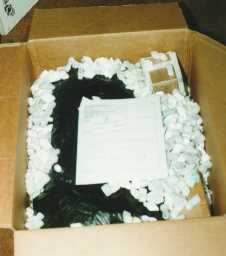 After the amp was placed in a floating bed of popcorn packing material, news paper was used to fill the remaining space. In this case, old parts including tubes and power tranny, were packed in separate boxes and used as space filler. A complete service receipt was included too.
---