What's New at PriceLess Amp Restoration

January 26 2018
Whoa, can't believe it's 2018 already. Priceless Amp Restoration is live again! I uploaded contents to a new server. I keep considering to update the looks of the website to the new fancy format everybody is using on the web. But hey, we're talking old school amps so why not an old school looking website. It's all about the content anyway, right? So what's new? Well, I finally moved my amp shop inside the house after 22 years in the cold in the winter and hot in the summer garage. Just about have the shop dialed in. I broke in the shop by building a Vibroclone #18. I'll post pics later. I have a FaceBook page and a YouTube channel where I will be posting most of my amp builds. So best to check out these sites first as it getting tedious to update more than one site. Oh, and let me know via email if any of the links on this site are busted. Thanks.
Cheers,
Jack
---
January 6 2014
OK, so I went through the laborious exercise and reset my pricing to reflect 2013 pricing. Most part prices since I close the business in 2005 have increased by 5 to 10% which is about equal to the cost of inflation. HOWEVER, new production tube prices have increased significantly. Specially the Svetlana 6L6 and EL34 Winged C tubes. Apparently the Svetlana tube factory in St. Petersburg Russia stopped making the Winged C tubes, so supply is very limited. Very unfortunate for us tube lovers since the Winged C was the best 6L6GC power tube since the original RCA and Philips 6L6 STR387.
To set my pricing, what I did was compare wholesale pricing of all parts comparing New Sensor and CE Distribution and then sampled my competition repair shops like Allen Amplification, Skips and Uncle Spot for labor and part pricing. I then compared retail part pricing from Mojo and Antique Electronics and set my prices accordingly. I'm sure you'll find that I set my labor and part pricing less than the my competition and retail part suppliers.
I'm also serious considering offering recone services too. Reconing is actually a very simple process, but very labor intensive. It's all about the glue and getting the correct recone kit.
Rock on,
Jack
---
January 1 2014
PriceLess Amp Restoration is once again open for business. I'd like to thank all my loyal customers for staying in touch with me during my 8 year down time. I've retired from my day job as a CPU circuit designer and am now in the position to dedicate myself all most full time to my first love, Surf, Blues, R&R and red hot glowing TUBES!! So send me your poor neglected tube amps and let me work my magic.
Cheers,
Jack
---
December 29 2013
Hey folks, been a long time. In fact it's been 8 years since I closed Priceless Amp Restoration. I closed the business because I really needed a break, considering I was working at demanding Intel managing a group of 8+ CPU circuit designers and still raising a family. I just couldn't find the time to enjoy the family and enjoy other things in life I like to do, like playing guitar. Needless to say, when it came to working on amps, "The Thrill Was Gone". Plus I was on the verge of rediscovering my second childhood love; motorcycles. Now I've also become quiet the Harley wrench. I decided to jump off the corporate money train and retired from the Integrated Circuit business after 29 years. Thus I'm going to re-open the amp repair business. I can't say I'm going to open the business full time just yet, because now I have two wonderful grandkids that my wife and I watch frequently, plus I need to leave time to keep my face in the wind on my 2006 Harley Softail. And I have to admit, I've had to refresh my rusty old tube amp skill set, but hey, it came back like riding a bike, plus I still have a large inventory of tubes, caps, transformer, speakers, etc. in which I need to do something with and selling that inventory on eBay never crossed my mind. I knew someday I would re-open the repair business, which is why I kept my old website up and running. I do need to go back and reset my pricing since it's been 8 years, but you can be sure, like before, I work on amps for the love of tube amps and not to get rich, thus I will set my pricing to reflect that love for the smell of a hot running beeswax transformer.
Cheers,
Jack
---
March 8 2002
Since my work load has been picking up, I decided to post my current work load so scheduled customers can keep track of my progress and new customers have a better idea of my currently scheduled work load and what slots I have open.



Say good by to all those nice Navy JAN tubes. The supply of Philips and Sylvania NOS tubes are just about gone. All the big wholesalers like New Sensor and Mojo no longer carry the Philips 6L6GC or the really nice GE 12AX7A's or 12AT7WC's. What few pieces they have, are too expensive for my taste. Apparently the Philips 7581A's are more plentiful and thus still available. Prices on these tubes are unchanged so far. I still offer the 7581A's for Vibroclone's and Super Reverb's on steroids, but this supply won't last forever either. Thank goodness for all the high quality new production tubes from EH, Svetlana, EI and JJ.



Well also say good-bye, at least temporarily, to the new Schumacher Twin Reverb OPT's, which was being offered by New Sensor for almost a year. Like most suppliers, no one wants to rely on only one OEM. New Sensor is now using Magnetic Components as a second source for the Twin Reverb OPT. Taking with Otto from New Sensor, Magnetic Components are designing to the exact same specifications as the original spec. The trannies are just a "tad" smaller but look very similar and sure sound the same to me. Here's a comparison pic. The Schumacher TR OPT is mounted to the below chassis and the new Magnetic's is sitting next to it on the left-hand side.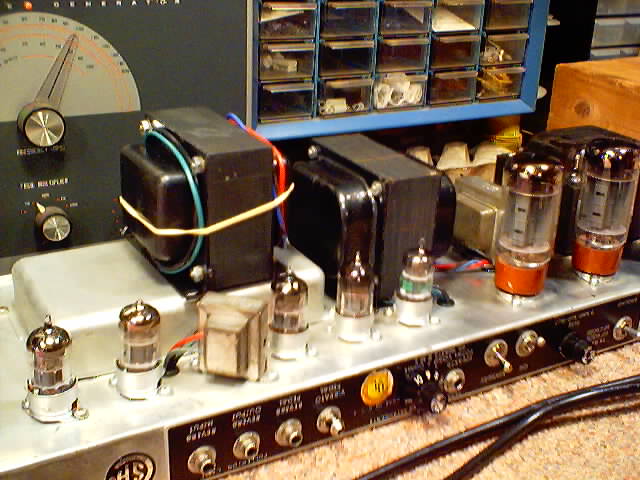 ---
November 25 2001
Whoa, it's been almost a year since my last update. It was a really busy spring and summer. All together I built three custom Vibroclone amps and restored a large assortment of Fender amps. So many amps, I decided in October that I needed a break. Don't want a good thing going sour. So I'm currently on sabbatical until the first of the year and really enjoying the time off giving me a chance to get caught up on personal projects and allowing me more time to play my own guitars and amps. Our band has had three gigs since late summer, so it's been nice to be able to spend more time with the band mates working up new tunes.



Since I get many inquiries regarding tolex tips and tricks I added a Fender amp tolex tips and tricks page link in my restoration services page. Here's the link for easy reference.



One of my personal projects that I've wanted to complete for several years was to add some quality components to my California garage home-brewed Strat copy. I replaced the stock pickups with Lindy Fralin's Blues Specials and replaced the cheap Japanese tremolo with a tremolo from Callaham Vintage Guitars and Amps. Added new 250K CTS pots and a new US made 5 way switch. I also took the time to completely shield the entire pick guard and body cavities. Strat is now very quiet and sounds killer with the Fralin pickups. Not only does the Callaham bridge increase sustain, it actually is a useable tremolo. (Highly recommended).
---
February 17 2001
New Concept in Customer Service
Customer service and communication is a very important aspect of vintage tube amp restoration. When someone sends their pride and joy across the states or across an ocean to be serviced be someone they have never met, it's very reassuring to the customer that their amp is in goods hands if an open line of communication exist between the service tech and the customer. I currently use email and Excel spreadsheets to communicate the exact cost, parts used and labor required. If the customer can't read Excel format, I'll convert the spreadsheet to a PDF file which can be read by Adobe Acrobat Reader, which is free shareware software. Now with the use of an inexpensive digital camera, I can take pictures of before and after service, incremental progress made and issues needing attention to even better communicate by sending pictures through email or posting pictures to my website and then point the customer to my webpage.

Svetlana Electron Devices
Apparently the US distributor for Svetlana tubes, Svetlana Electron Devices is out of business. So the availability of the Svetlana 6L6GC is rather scarce right now. New Sensor is temporarily not offering the 6L6GC. Fortunately Mojo is some how managing to offer the SV6L6GC but is selling the tubes as fast as they can get them. Thus most orders are likely back ordered. Hopefully this situation will change soon. We all waited 5 years for Svetlana to start high volume manufacturing of their 6L6GC. Apparently the factory is running strong. Anybody up for being a new US distributor of Svetlana tubes?



Vibroluxclone
Wish you could afford a Blackface Vibrolux Reverb? Me too! Check out my latest clone of a Vibrolux Reverb.
---
December 12 2000
All schematics and drawings have been converted to Adobe PDF format for ease of viewing and printing. Download free Acrobat Reader 4.05.



I'm now set up to accept PayPal payment for parts and repair service. PayPal is an Internet secure way of transferring funds from your bank account or credit card. Click here to set up your PayPal account.



WeberVST vintage series speakers and Super Reverbs.
There has been a lot of discussion and questions regarding the fitting of WeberVST vintage 10" series speakers in a Super Reverb. After consulting with Ted Weber, Mark Norwine and Larry Rodgers, here are the results of my investigation.
First, Ted Weber uses the same basket for all of his vintage series 10" speakers. These baskets are a little larger then Jensen, CTS or Oxford speakers, which were commonly used in Super Reverbs. Depending on the year of Super Reverb, there is a clearance issue with the top left speaker relative to the power or to the output transformer. The Tweed Bassman has the same clearance issue with the power transformer. A while back, Mark Norwine, worked with Ted Weber to design a basket with a special cut-out to be used in the upper left position in a Tweed Bassman. This basket cut-out solution works with Super Reverbs from 1964 to 1966. In 1967, Fender apparently was planning on using taller power transformers. Fender therefore changed the soundboard design and moved the upper left speaker cut-out to the right to allow for the taller power transformer. (Note, Fender did not start using a taller power transformer until later in approximately 1971). So when mounting a Weber vintage series speaker in a 1967 or later Super Reverb with an off-set upper left speaker cut-out, the top left speaker, even with the specially designed basket cut-out, does not have enough clearance relative to the output transformer. Rotating or re-mounting the top left speaker will not yield sufficient output transformer clearance. A new soundboard must be cut to match the symmetrical soundboard of pre 1967. With a symmetrically cut soundboard, the specially designed basket cut-out will have enough clearance to the power transformer and thus allow the chassis to be mounted to the cabinet using the existing chassis/cabinet mounting holes.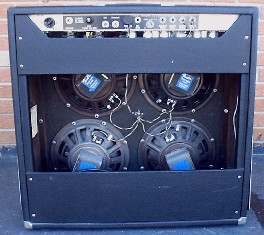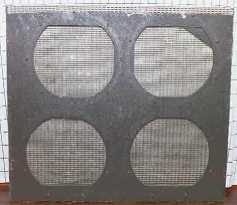 1967 Super Reverb and 1968 Super Reverb soundboard. Note off-set upper left cut-out.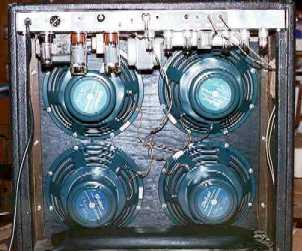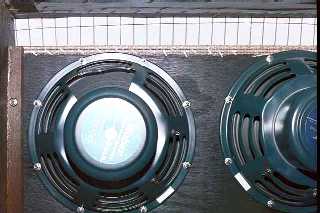 1968 Super Reverb with new soundboard and Weber P10Q's. Note basket cut-out.
---
August 21 2000
Would you believe Schumacher is producing Fender style transformers again? Well it's true. New Sensor's engineer and long time amp enthusiast, Otto, has been working with Schumacher for over a year now to produce Fender spec'd transformers again. I don't know how many models are expected from New Sensor/Schumacher, but the first transformer is a spec'd Fender Twin Reverb output transformer (Can you say Vibroclone?). Besides the tranny being painted black for rust prevention, the tranny looks exactly like the original, sounds great and is stamped with Schumacher's EIA (606) code. Check out this pic, feels like the "Twilight Zone".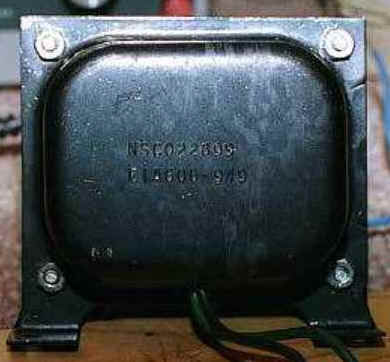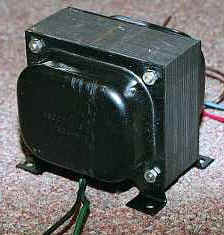 I just completed the chassis work for another Vibroclone project for Dennis out of Texas. We used a 1968 BMR chassis. Go to the bottom of the, "more Vibroclone discussion" page for details.



All of the NOS Utah speakers have sold, all faceplates have sold but the brown Pro Reverb and all but one '68 BMR cabinet has sold. '67 Twin Reverb has sold too.
---
June 10 2000
New URL
Always searching for a faster connection and web server, I've changed ISP's once again. I know, once a year I seem to do this, sorry, but I've got two serious on-line gamer kids who need a competitive edge. I'm in the process of transferring my existing web page and web server to my own domain, so if I should change ISP's again, the change will be transparent to those who frequently visit PriceLess Amp Restoration. The transition should occur by the end of June. I will then post the new URL. It should be something like: www.priceless-amps.com



New For Sale Page
I now have a for sale page up and running and will be updating it as items come up for sale. Currently I have Utah speakers, Fender faceplates and a restored '67 Twin Reverb listed.



Reverb Cables
Magic Parts finally has some braided reverb cable back in stock. All suppliers ran out about 6 months ago. Some say the company who was producing the cable, which was very similar to the original wire used by Fender, stopped making the wire. Some suppliers are now carrying a similar cable as before, but it has a thin clear outer plastic insulator. Although nicer to work with, it's not original enough for my taste. Magic Part's new braided cable is a little smaller in diameter and has a black cloth inner wire compared to the original white/clear plastic which gives this braided wire a little over all darker color, but still closer to the original wire. So those who need braided reverb cable, hand made like the originals, we're back in business! One pair of reverb cables for any Fender combo is $15 plus $4.50 shipping. Here's a pic link for a pair of cables and a new reverb cable connections and length pic.
---